MC-303 Groovebox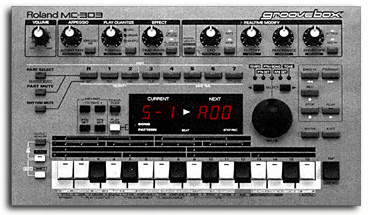 The original groovebox for dance/techno! It's got 303, 808, 909, Jupiter, and Juno sounds.
It is a sequencer arranger and looks a lot like the original 303's and 808's... Not to mention it
includes realtime Filter Cutoff, resonance, panning and arpeggiator. With this box alone you can
become a techno music maker!!! It sounds pretty good and has an unbeatable price (about $700)!!!!
Polyphony 28 voices
# of Tones 448
# of Drum Sets 12 (inc. 808, 909)
# of Instruments 16 part multitimbral
Effects Reverb, delay, chorus and flange
Keyboard 12 buttons
Arpegg/Seq 8 tracks, 10 songs, 120 presets patterns, 50 user, 200 RPS phrases
Control MIDI
Date 1996
$$$ 700